The long lasting flowers of Uvularia grandiflora are something I really look forward to every Spring. And every Spring, my robust stand of "Large Flowered Bellwort" slowly opens their large, pendulous, bright golden yellow flowers that resemble inverted flowing candle flames. Average plant height is about 18" - 24" and the medium green foliage of the plant provides a perfect foil for the unusually shaped flowers.

The name Uvularia comes from a part of the human anatomy, the Uvula, which is that funny little appendage hanging down at the back of your throat. Can you see the resemblance? Isn't botanical nomenclature easy? I find it curious that the majority of people queried confuse the word Uvula with the word Vulva, another part of the human anatomy..........

Uvularia grandiflora is a very long lived, hardy perennial and is easily grown in average, medium, well-drained soil in part to full shade. In nature, it occurs in moist, humusy soil in part shade and is native to more than half of the US and Canada - //plants.usda.gov/java/profile?symbol=UVGR

Hardiness is USDA Zones 4-10 with full shade a must in the deep south.

It's an excellent companion plant for Hostas, Hellebores, Arisaemas and Trilliums. The list goes on and on.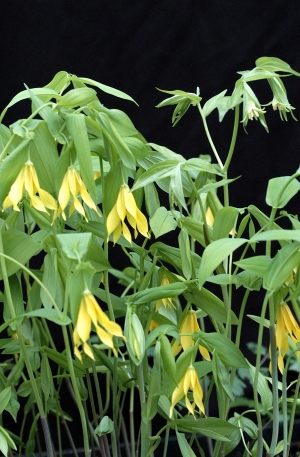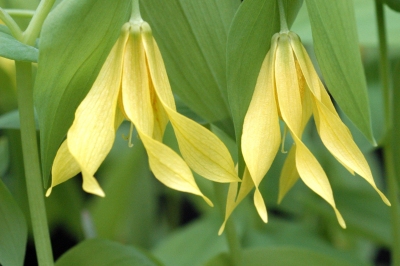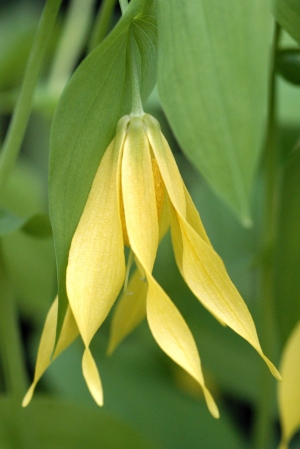 I wish that I could say that they're 100% deerproof, but on ocassion, a curious young fawn may take a nibble. Different deer populations have different tastes and may completely ignore them. I'm also building up a nice supply of two other native Uvularia species, Uvularia sessilifolia and Uvularia perfoliata. These species are smaller in stature, but equally as showy and are perfect for a shady rock garden, along a path or in the front of a shade border. I hope to have them available next Spring. In the meantime.............

I've built a nice stock of 5 year old flowering size Uvularia grandiflora and I know that they'll make a great addition to your garden and will bring you the same pleasure that they bring me every Spring for many, many years to come.

The prices shown below include FREE SHIPPING via Insured Priority Mail on bareroot plants.

3 for $ 25.00 delivered ($8.35 ea)
7 for $ 50.00 delivered ($7.15 ea)
12 for $ 75.00 delivered ($6.25 ea)
20 for $100.00 delivered ($5.00 ea)

Ordering couldn't be easier! Just fill out the order form at //www.sunfarm.com/orderform.pdf

Most of our previous weekly specials are still available. Go to - //sunfarm.com/specials/ to browse the archives.

My entire "Speakers Portfolio" is now on line, so, if you're looking for a dynamic, entertaining, educating speaker for your Master Gardener Group, Garden Club, Civic Organization etc, check out - //www.bluetoad.com/publication/?i=36858

This is a retail mailing. If you're a nursery, garden center, landscape architect or garden designer etc, please make sure that you're also on my wholesale mailing list by emailing me at my personal email address - barry@sunfarm.com - with the words WHOLESALE LIST in all caps in the subject line.

By the way, if you haven't read the story in GQ magazine about me, you can read it on line at - //sunfarm.com/images/GVQ08-2.pdf

And........... our Hellebores were featured in a 6 page article in the January issue of Southern Living magazine - //www.sunfarm.com/images/sliv10.pdf

You can also follow SF & G on TWITTER - //twitter.com/Sunfarmtweets and become a fan of SF & G on Facebook - //www.facebook.com/pages/Sunshine-Farm-Gardens/71330111595

If you're getting more than one copy of my mailings, want to sign up a friend, or for some insane reason, to unsubscribe, don't reply to this unmonitored email address. Just send an email to my personal email address - barry@sunfarm.com

Happy Gardening,
Barry
Happy Gardening,
Barry Glick aka Glicksterus maximus aka The Cyber-Plantsman
Sunshine Farm & Gardens
HC 67 Box 539 B
Renick WV 24966 USA
304-497-2208
EMAIL - barry@sunfarm.com