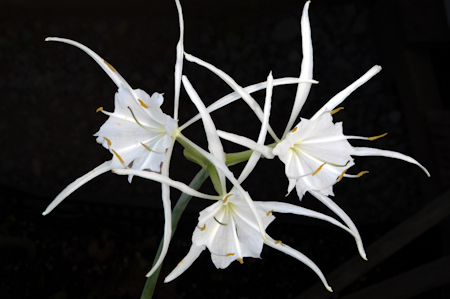 You'd think that a plant bearing flowers with such an exotic appearance would be temperamental, short lived and tricky to grow, but the truth is quite the contrary. Although everything about this delicate, fragile looking lady screams tropical, hot house beauty, the opposite couldn't be more true. In fact, I've shared space in my brutal zone 5 garden with her for over 30 years.
I so look forward to this time of year when the thick, medium green, almost succulent foliage of the "Spider Lily", seemingly overnight, sends up its 12" - 24" stems of pure, icy white blooms. They're a real show stopper in full sun, full shade and everything in between. Average soil moisture is just fine, but they're even happier in moister soils, and the more content they are, the more flower stems they'll produce. I ask you, could they be any easier to grow???
And... they even hold up very well as cut flowers.
As a native member of the Amaryllis family, the genus Hymenocallis is home to over 20 species across the Mid Atlantic and Southeastern regions of the US. The species I'm growing, Hymenocallis caroliniana, was formerly known as Hymenocallis occidentalis. Some taxonomists group them in the Lily family, but I'm sticking with Amaryllidaceae, and if you're familiar with other Amaryllidaceae, you'll agree. Planted in full sun they sometimes behave somewhat similar to Lycoris species aka "Resurrection Lilies", by losing their foliage during the hot dry summer and then sending up their flower stems from bare ground in the late Summer - early Autumn. The name Hymenocallis is Greek and means beautiful membrane, referring to the thin membrane between the petals.
Hymenocallis caroliniana has a light, vanilla like fragrance, most likely to attract pollinators, not humans, as the dramatic beauty of the flowers do a great job of that. They usually set seed left to their own devices and are very easy to grow from seed. I take no chances though, and use a number 8 camel hair brush to dab pollen from one plant to another. I try to make sure that I put pollen from each plant onto a different one. This practice maintains their genetic diversity. Although they're easy to grow from seeds, they can take 3 - 5 years to reach flowering size. For me, it's a well needed exercise in patience, not one of my strongest suits. They'll also make offset bulbs and in a few years, if they're happy, you may have 5 or 6 bulbs in the clump that you can easily divide and replant in the Spring.
I have just over 500 of my 8-10 year old flowering size Hymenocallis caroliniana to share with you. I'll carefully wrap them for their journey to your garden in long fibered, unmilled sphagnum moss. This material is antibacterial, antifungal, antiviral and a very useful material to recycle.
Pricing follows below:
1 for $ 15.00
3 for $ 40.00
5 for $ 60.00

Adding $4.95 to your order will cover the cost of Insured Priority Mail and you'll have them 2 days after I receive your check.
In order to be fair, I won't sell more than 5 to any one person. I'll have more next year and hope to keep the pipeline full, so don't fret if you miss out this year.
Ordering couldn't be easier! Just fill out the order form at https://www.sunfarm.com/orderform.pdf