For those of y'all that can't write or think as fast as I can talk and have asked me to spell out the Sampler Deal, here 'tis.......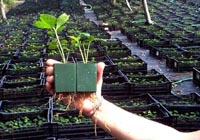 As you may or may not know, we retail virtually all of the plants that we grow for $5.00 each in 2" tree bandpots, 50 to a 10 X 20 Lattice Flat. Included at no extra cost is our own detailed care tag with a color picture of the plant. Those plants too new to have a color tag are provided with a 4 line, 3/4" computer printed tag. These heavy, reusable, open bottom tree bands offer many benefits. Besides air pruning the roots as they reach the bottom of the pot, they have root guides inside the pot that prevent that gnarly mess that happens when roots grow in a round pot or plug. Since the walls of the pot are straight with virtually no taper, they fit snug up against each other in the flat, there is no wasted space, and the soil volume is about 300% more than a 50 plug cell.
Anyway, like I said with very few exceptions, most plants are $5.00 each. The only exceptions that come to mind are our Hybrid Hellebores, which, if you are buying in large quantity, can also be purchased for $5.00. The hardy Cyclamen are a 2-year crop and we sell these flowering size plants for $7.50. The Hexastylis splendens is a really neat Asian Hardy Ginger (see left) with huge, striking, silvery mottled leaves and scary-looking silver dollar sized flowers.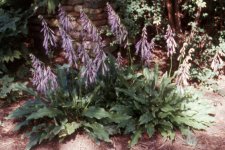 White Flower Farm sold out at $22.95, we sell them for $7.50. Hosta laevigata is a recently discovered rare species that if and when you can find it, costs at least $40.00, we sell it for $10.00, and a few of the newer plants out of Tissue Culture are in the $7.50 - $10.00 range, as we have to recover exploration and establishment costs. Eventually our goal is to bring the prices down on everything.

Soooo, that said, when you buy a sampler, what you will get is 100 plants. 5 each of 20 different plants including some of the more expensive ones, not at the $5.00 or more price, but for $2.50 each. Yes you heard that right folks ALL at $2.50 each. We do this to make it easy for you to get started with some of these rare and unusual, but still virtually idiotproof for the average home gardener, plants.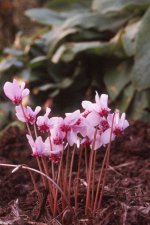 The plants will be mostly our choice -- for instance, we always include our very popular hardy Cyclamen, and some Hellebores -- but if you promise not to drive us too crazy, we will allow you to assist in the selection. We would also like to know what percent of the plants should be sun and what percent should be shade. The sampler will include many plants from the archives of the Glick Picks and, if we've done our homework well, they will be the type of plants you won't find at your favorite garden center or in most mail order catalogs, especially at these prices.
Oh, by the way, did I tell you that we will waive all packing, UPS shipping and insurance costs, what a deal!!!
Just send us your check for $250, and your preferences, street address for UPS and a day and evening phone number, fax number and e-mail address if you have one. We'll get your new "instant garden" on the road to you ASAP.
Two or three days later you'll call us up with glee in your voice and lavish us with praise which I love almost as much as the dinero. I look forward to sharing these garden gems with you.