Sunshine Farm and Gardens

Rare and Exceptional Plants for the
Discriminating Gardener and Collector
---
Camassia scilloides
One of the earliest plants to bloom in my garden is Camassia scilloides. The nearly three foot tall spikes of pale blue flowers open slowly over a period of weeks, blooming from the bottom of the stem upwards. I grow it in very deep shade and the flower stems tend to get a bit lanky. However, I suspect that if given more sun, they would be shorter and stouter.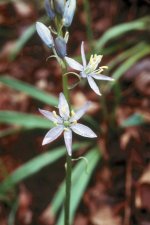 By the way, I found a pure white one this Spring, I forgot to mark its location and its seeds have gotten mixed in with all the rest. I'll try to be more diligent next Spring and isolate it.

Propagation is very easy from seeds which are produced in abundance. I place drawstring bags over the seed heads, as it can be tricky to know when seeds will be dispersed. I sow the small, shiny black seeds in a well drained mix on the surface of 4" pots and leave them out in the woods. Seedlings can take several years to mature into flowering size plants, so if you want a colony to develop quickly, dig up the plants in early Spring and divide the bulbs which can produce up to a dozen new plants in just a couple of years.

Taxonomic Hierarchy
Kingdom - Plantae - Plants
Subkingdom - Tracheobionta - Vascular plants
Superdivision - Spermatophyta - Seed plants
Division - Magnoliophyta - Flowering plants
Class - Liliopsida -- monocotyledons
Subclass - Liliidae
Order - Liliales
Family - Liliaceae
Genus - Camassia
Species - scilloides
Common name - genus - "Quamash"
Common name - species - "Wild Hyacinth", "Atlantic Camas"
Synonyms - Camassia hyacinthina, Camassia esculenta
Native of - Eastern US
USDA Hardiness Zone - zone 5, maybe 4
Light preference - Light shade to light sun
Soil preference - Average to rich
Moisture preference - Average to moist
Bloom time - Early Spring
Bloom color - Pale blue
Foliage - Medium green, long, strapping
Spread - 12" -24"
Height - 12" - 36" in flower
Landscape uses - Naturalizing in a shady border or woodland garden
Medicinal uses - None that I have found, but they were eaten by Native Americans



| Home | About Us | Specials | Plant List | Focus on Hellebores | Garden Tours |
| Lectures and Workshops | Glick Picks | Ordering | Request Info | Email Barry |
Copyright © Barry Glick 1996-2022. All Rights Reserved.
Barry Glick, Sunshine Farm and Gardens
696 Glicks Rd, Renick, WV 24966, USA
Phone: (304) 497-2208
E-mail: barry@sunfarm.com
Last modified February 25, 2020
URL: https://www.sunfarm.com/picks/camassiascilloides.phtml