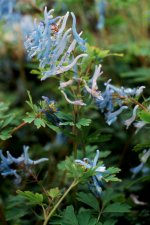 Click to enlarge

For 9 years now, I've had an ongoing Love/Hate relationship with this plant. It was given to me by friends, John and Galen Carter of Rowden Gardens in Brentor near Tavistock England, two of the coolest people on Earth! It's glaucous, finely dissected foliage speedily carpets a moist, shady area in early Spring. By the end of Spring, the indescribably blue flowers have the most indescribable fragrance. They are uniquely tubular shaped and spurred. I've heard their unusual form compared to the shape of a Sea Horse. So what's not to love here?? Well, on the East Coast and probably everywhere excepting the Pacific Northwest, that's probably the last you'll see of it. Because if you're lucky enough to see it again after it's Summer dormancy, it probably won't be able to struggle through a rough Winter.

Soooo, you love the blue color that's just so hard to find, and the delicious fragrance but...... you're tired of buying this plant every year and paying a perennial price for an "annual", whattaya do??? Well here's the answer. Right before it goes dormant, break of a chunk off and bring it inside. Pot it up in a 6" pot and let it go dormant in a bright shady window. Keep it moist, but not wet during its Summer dormancy. In late Autumn, about Thanksgiving, it will awake and start growing again. Start feeding it a liquid fertilizer at 1/4 strength weekly. In about a month or so, it will run you out of house and home. Repeat this process yearly and you'll always be in good supply and probably end up starting your own nursery to get rid of them.

The first discovery of the species Corydalis flexuosa occurred on an expedition in 1989 to Western China (Panda country) by 3 famous English plant explorers, James Compton, John d'Arcy and Martyn Rix. Since then several cultivars have been named. Corydalis flexuosa 'Blue Panda' being the first followed by Corydalis flexuosa 'China Blue' and Corydalis flexuosa 'Pere David'. Personally, I can't see that much difference in the cultivars. A new purple leaf form has been introduced but I haven't seen it yet.

I asked World famous plant explorer, Jim Waddick to comment on this plant. Jim is the author of the Timber Press book "Iris of China" http://www.timberpress.com/books/index.cfm?do=details&ID=135 "Oddly I saw this in vast numbers also in 1989 in the original site in its original location which is in the Woolong Valley of central Sichuan Province, practically within spittin' distance of the Giant Panda Breeding Research Center. This is a gorgeous location with steep hillsides and rushing near-white -water streams (all going into the Mien River). I figured at the time since it was SO obvious that surely some English had brought it in by then. The few pieces I brought back quickly perished. There goes fame and fortune".

Dan Heims has named a form with golden foliage, a tissue culture sport. You can see this new introduction at the Terra Nova web pages http://www.terranovanurseries.com/pages/pla ntsC3.html

Gary Buckley wrote a great story regarding the growing of this plant in Australia at: http://209.52.189.2/print_article.cfm/3061/ 51042
I grow several other Corydalis species. A couple of my favorites are the prolific fern leaved, Corydalis cheilathifolia and the biennial, but prolific self seeder, Corydalis incisa (see left).

Just the facts M'am:
Kingdom - Plantae
Phylum - Anthophyta
Class - Dicotyledonae
Order - Papaverales
Family - Fumariaceae
Genus - Corydalis
Species - flexuosa
Cultivar name -
Synonyms - none
Common name - "Fumitory"
Native of - China
Height -8"-12"
Zone - 5-?
Bloom time - Late Spring, early Summer
Bloom color - A lovely blue
Foliage - Glaucous, dissected
Spread - 18"-24"
Uses Front to mid shady border
Medicinal uses - None found
A complete set of back issues of "Glick Pick of the Week" is available for the asking. If you would like me to send them, or if you would like to first see the list, send me an email. Also, if you're getting more than one copy of this weekly mailing, or would like to subscribe a friend, or for some crazy reason, to unsubscribe, let me know.
© 2000 Barry Glick and Sunshine Farm & Gardens