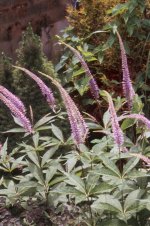 Click to enlarge

Now that the cold war has finally ended and relations are warming up between the US and the former Soviet Union, I think itís a good time to start telling you about some of the fantastic plants native to that region of the world.

Possibly, my very favorite could be Veronicastrum sibiricum. OK, I'll be the first to admit that I'm a sucker for any plant with the specific epithet sibiricum. Living on a frozen 3000 foot mountaintop in zone 5 youíre always on the lookout for plants from colder areas.

So.... I've been growing the native counterpart Veronicastrum virginica http://www.sunfarm.com/images/med/veronicas trumvirginicumflr-m.jpg for years and love it dearly. Even when itís not in flower with its pure white spikes of soft blooms, the foliage is magnificent, just check out: http://www.sunfarm.com/images/med/veronicas trumvirginicumfol-m.jpg . The way the olive green leaves whorl around the stems is incomparable. No insect chomps, fungal or any other problems for that matter, in fact the foliage is so perfect that you almost believe it to be fake silk.

In any event, back to the Russian side of the family, the foliage is even more striking! Leaves are much bigger and coarser with deeper venations and the flowers, oh the flowers, with loveliest color of pinkish-lavenderish-lilacish that you've ever been unable to describe.

And easy to propagate and share with your friends like you wouldn't believe. Sets copious amounts of tiny, but easy to germinate seeds and cuttings practically root in a glass of water, well maybe thatís a bit overstated. I use Wood's Liquid Rooting Hormone at the 10% rate, but have had equal success with Rootone powder.

All in all, this is a great plant for the middle to the back of your perennial border. Height has been 36Ē-48Ē in my garden, and the several week long bloom period starts in early to mid Summer. Full sun to part shade is OK, and I am sure that the window of tolerance for light and soil conditions is extremely wide.

The genus Veronicastrum was separated from the genus Veronica. You wanna get technical and understand why?? I put together this little chart to help you understand the workings of a Taxonomists mind.
| | | |
| --- | --- | --- |
| COMPARISON | VERONICASTRUM | VERONICA |
| Corolla | Salverform, tube, long lobes short | Rotate, tube short, lobes long |
| Stamens | 2, inserted near base of tube, much exerted | 2, inserted one each side upper corrola lobe, exerted |
| Capsule | Ovoid, swollen, blunt rupturing along 4 apical sectures | Compressed, cordate or emarginate, loculicidal |
| Seeds | Terete, surface reticulated | More or less compressed, surface smooth or pebbled |
| Leaves | Whorled, in 3's to 9's | Opposite or upper leaves alternate |
| Plant | Especially root,cathertic, emetic, contains Leptandrin | Often bitter, unpalatable, seldom toxic |
The technical terms can be referenced in books like Hortus Third or online in one of several glossaries of Botanical Latin. There is a great dictionary of specific epithets at: http://www.winternet.com/~chuckg/dictionary .html This is a searchable database put together as a labor of love by Chuck Griffith. You can spend hours there and really learn a lot about Botanical Latin.

---
You see, there are reasons for all of the seemingly insane plant name changes.

If you have a huge monitor and want to see a larger picture of Veronicastrum sibiricum, go to: http://www.sunfarm.com/images/lg/veronicast rumsibiricum-l.jpg

Just the facts M'am:
Kingdom - Plantae
Phylum - Anthophyta
Class - Dicotyledonae
Order - Scrophulariales
Family - Scrophulariaceae
Genus - Veronicastrum
Species - sibiricum
Synonyms - Veronica sibirica, Leptandra sibirica ??
Common name - "Siberian Culver's Root"???
Native of - Japan, Former Soviet Union
Japanese name - Kugai-sou
Height - 24"-36", up to 48" in flower
Zone - at least 5, probably 4, possibly 3
Bloom time - Mid Summer
Bloom color - A lavenderish lilac
Foliage - grayish green, whorled around stem
Spread - 18"-24"
Uses - Middle to rear of the partly shaded to full sun perennial border.
Medicinal uses - The roots of Veronicastrum virginicum were once used as a vomit inducer and as a cathartic, it is now primarily used for treating liver disorders and constipation. I'm not sure as to whether Veronicastrum sibiricum has the same medicinal properties.

You can find out more about the medicinal uses of Veronicastrum and other plants and purchase the herbal parts of plants if you go to http://www.alternative-medicines.com/herbdesc1/1culvers.htm

Hey, did I tell you about Ligularia sachalinensis??? Stay tuned!

A complete set of back issues of "Glick Pick of the Week" is available for the asking. If you would like me to send them, or if you would like to first see the list, send me an email. Also, if you're getting more than one copy of this weekly mailing, or would like to subscribe a friend, or for some crazy reason, to unsubscribe, let me know.

© 2000 Barry Glick and Sunshine Farm & Gardens