Late Summer, early Autumn is a time of year when there isn't much of anything going on in most gardens, so permit me to introduce you to one of my favorite "Shade Brighteners", Allium tuberosum. I've been growing this reliable plant for over 20 years now and that period of time encompasses many droughts and several bitter, well below zero, no snow cover Winters. The 12" - 24" tall, erect stems have never failed to yield a bounty of large, round, snow white flower heads that last for weeks. I have it growing in full sun, as well as in full shade and it doesn't seem to have any preferences as far as light or soil type goes.

The "Tiger Swallowtail" Butterfly, Papilio glaucus, enjoys it as a source of nectar, as do many other butterfly species. Allium tuberosum is native to Southeastern Asia where it is used medicinally for urinary incontinence, kidney and bladder weakness and stomach chills. Also, it is used as a poultice for knee injuries. In traditional Chinese medicine, a powder is made from the seeds and is known as Jiu Cai Zi and, according to a multitude of sources, has many health benefits. The common name for Allium tuberosum is "Garlic Chives" and I use it as a substitute for Allium schoenoprasum, the species commercially grown for Chives. It's a close relative of Allium cepa, the Onion and Allium sativum, Garlic.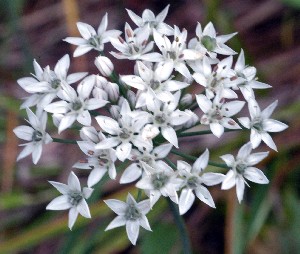 According to most authorities, Allium tuberosum has a hardiness range of USDA zones 3 - 10 and that means that it will grow in any state in the US. The ever-enlarging clumps, like the one pictured in my garden below, can produce over 50 flowering stems in just a few years. Clumps can easily be divided and it's a no brainer to grow from the copious seed crop that you'll be able to harvest when the flowers fade. The flowers are also easy to dry and use in dry flower arrangements.
The Kemper Center at the Missouri Botanic Garden has some great images and further info on Allium tuberosum.
I have a good stock of flowering age plants in 2" pots that are 2 years old and ready to flower. I've saved some for your garden and you can order them at the prices below.
The prices shown below include FREE SHIPPING on bareroot plants out of their 2" pots. If you would like to receive the plants undisturbed, in their pots, please add .95¢ per plant to cover the extra cost of shipping soil and pots.
7 for $ 35.00 delivered ($5.00 ea)
10 for $ 45.00 delivered ($4.50 ea)
15 for $ 60.00 delivered ($4.00 ea)
20 for $ 70.00 delivered ($3.50 ea)
50 for $150.00 delivered ($3.00 ea)
Ordering couldn't be easier! Just download and print our order form and send it along with your check to:
Internet Order Department
Sunshine Farm & Gardens
HC 67 Box 539 B
Renick WV 24966 USA