I HATE Phlox paniculata, I LOVE Phlox paniculata, I HATE Phlox paniculata, I LOVE Phlox paniculata, I HATE Phlox paniculata, I LOVE Phlox paniculata, I HATE Phlox paniculata, I LOVE Phlox paniculata!!!

I guess you could say that I have a Love/Hate relationship with Phlox paniculata . That was until my friend, Jeana Pruitt emerged from a colony of over 100,000 Phlox paniculata near her home in Nashville TN with one plant that she deemed to be radically different than all the rest. And... after growing her Phlox for over 10 years, this skeptical, yet optimistic gardener is unequivocally convinced that this is the best selection of Phlox paniculata EVER!!!

Phlox paniculata 'Jeana' is a vigorous grower, yet it never attains heights over 24", about half the size of the straight species. Instead of 15-25 flowers per panicle, it can have up to 100 long lasting, fragrant, lavender/pink flowers that open slowly over a long period and stay vibrant for quite a while during mid Summer through early Autumn.

The most exciting attribute of this garden gem is the fact that in over 10 years, through all different seasonal and weather conditions, Phlox paniculata 'Jeana' has NEVER shown ANY signs of Powdery Mildew, a disease that disfigures EVERY other Phlox paniculata that I've ever grown!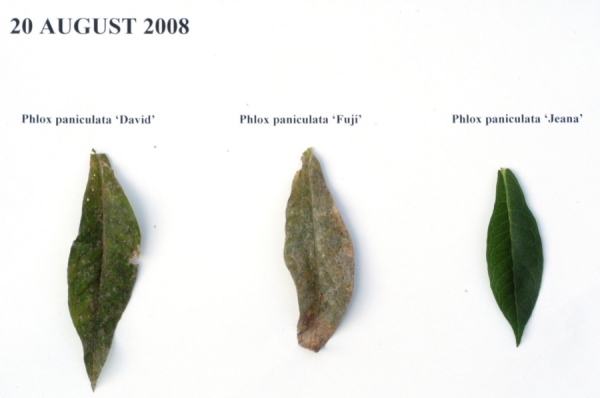 Here's a comparison that I photographed last Summer between Phlox paniculata 'Jeana', Phlox paniculata 'David' and Phlox paniculata 'Fuji', the two plants touted as the most Powdery Mildew resistant cultivars to date. As you can see, both of the other plants are entirely covered in the disease and Phlox paniculata 'Jeana' is perfectly clean. The images speak for themselves!!! Phlox paniculata 'Jeana' is hardy from zones 3 - 8 and seems to grow well in full sun to full shade in average to moist soils.
I've been building a good stock of plants to share with you and now is the PERFECT time to plant them.
What you'll receive are 2 year old bareroot plants in active growth that have flowered for the last 2 years. They're ready to plant for a spectacular bloom next Summer. They'll arrive on your doorstep with their roots wrapped in long fibered, unmilled sphagnum moss. This biodegradable material is antibacterial, antifungal, antiviral and a very useful material.
If you're squeamish about bareroot plants or are not ready to plant and would like plants established in 2" pots, please add an extra $5.00 to your total order to cover the extra packing and shipping charges.
The prices shown below include FREE SHIPPING on bareroot plants out of their 2" pots. If you would like to receive the plants undisturbed, in their pots, please add .95¢ per plant to cover the extra cost of shipping soil and pots.
7 for $ 35.00 delivered ($5.00 ea)
10 for $ 45.00 delivered ($4.50 ea)
15 for $ 60.00 delivered ($4.00 ea)
20 for $ 70.00 delivered ($3.50 ea)
50 for $150.00 delivered ($3.00 ea)
Larger quantities at even lower prices upon request
Ordering couldn't be easier! Just fill out the order form at //www.sunfarm.com/orderform.pdf