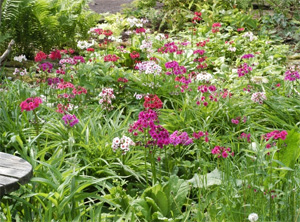 The plant family Primulaceae is home to many genera (plural of the word genus) of plants. The most well known, of course, is the genus Primula, commonly known as "Primroses". Too many people think of the annual primrose that you buy at Walmart, Primula obconica, when they hear the word Primrose. Truth be told, most Primroses are long-lived perennials. The genus Primula is separated into 18 sections. The plant I'm singing the praises of today, Primula japonica, is in the Proliferae, or "Candelabra" section, so named for its flower form.

This particular species occurs in Japan on moist streambanks in full shade to light sun. Here's an interesting set of images of a wild population in Japan - http://www.valley.ne.jp/~takagi2/h16-gyouji14.htm

In garden cultivation, plant height is about 6" - 12", and in flower, their drumstick like candelabras reach up another 12" - 24" with up to 6 rings of extremely long lasting flowers in every imaginable shade of crimson, pink, red, white, lavender, peach, cerise. Oh well, you get the idea! Although each color, if kept isolated, comes true from seed, I tend to appreciate the rainbow mix that happens naturally through their promiscuous nature. And copious amounts of seed they do set! This is a perfect plant to naturalize in your garden. They make a wonderful cut flower and though in nature they do grow in moist to wet areas, I've had good success in average soil with a good mulch. I would say they are hardy down to zone 4 and in moist shade can probably handle the heat of zone 9, maybe even 10. As with all Primroses, the deer never bother with them.

The colorful colony pictured below is in a shady section of my garden that has average soil moisture. It started about 5 years ago with just 3 plants.

If you would like to learn more about Primroses, I suggest you join the American Primrose Society, they've been around since 1949 and publish a full color quarterly journal and have a great seed exchange - http://www.americanprimrosesociety.org/

I've a good stock of flowering age plants in 2" pots that are poised to create a rainbow of color in your garden and I've saved some for you. Check out the very reasonable prices below.

The prices shown below include FREE SHIPPING on bareroot plants out of their 2" pots. If you would like to receive the plants undisturbed, in their pots, please add .95¢ per plant to cover the extra cost of shipping soil and pots.

7 for $ 35.00 delivered ($5.00 ea)
10 for $ 45.00 delivered ($4.50 ea)
15 for $ 60.00 delivered ($4.00 ea)
20 for $ 70.00 delivered ($3.50 ea)
50 for $150.00 delivered ($3.00 ea)

Larger quantities at even lower prices upon request.

I also have a limited stock of older plants available in 5" deep pots, if you would like the more mature plants, send an email to my personal email address - barry@sunfarm.com and I'll send you info.

Ordering couldn't be easier! Just download and print our order form, fill out and mail to address listed on the form.

If you don't have Adobe Acrobat PDF Reader on your computer, you can download it for free at http://www.adobe.com/products/acrobat/readstep2.html